CH. DRAGONFLY DAYBREAKER, JC
Born August 29, 1996 - Died February 25, 2010
LOGAN was the second of seven champions from the Rodeo x Krystal litter. His photo graced the back cover of the Afghan Hound Review, 1999 issue 2.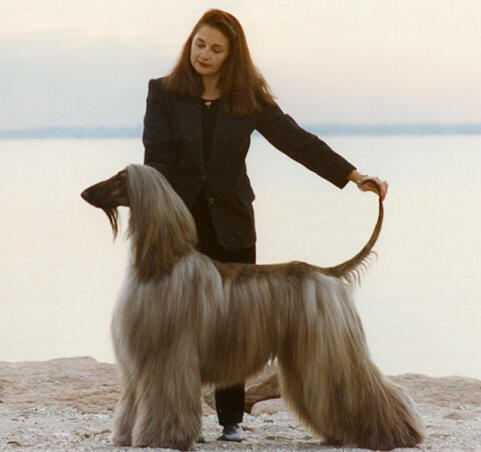 Logan's class career included multiple Best of Breed wins over specials from the classes.
Congratulations to his children on their accomplishments:
Ch. Dragonfly Bravissimo
Dragonfly Shegar Texas Ranger - pointed
Dragonfly's Heaven Sent, RN NA
Dragonfly's Desert Rose RN NA NAJ CGC (AH-2/02)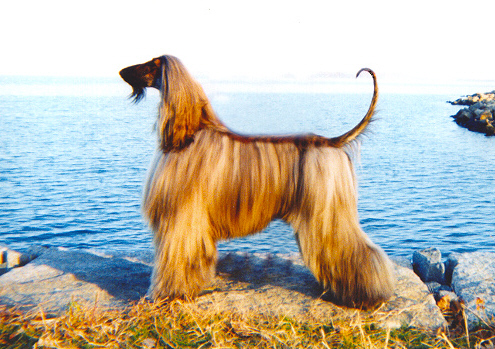 OFA excellent, eyes clear, and thyroid normal.
Logan's Pedigree
Ch. Qamari's Flying Colors
Ch. Journey's Judgement Day
Ch. Vendikhar Roulette
El Shazaam Breezalong
Ch. Vendikhar Margeaux
Ch. Shai-Tam's Qizz My Grits
Ch. Kassan's Magic Dragon
Ch. Shai-Tam Ambrosia Qizlo
Ch. Qamari's Charming Alibi
Ch. Jeheran's Seyquin
Ch. Jamica's Rani Fafnir
Ch. Autumn Heather
BenZari's Dusty Dawn UD, LCM
Ch. Ben Haasin's Czar Illya
Oromeo Zamara CD, FCh.
Ch. Kameron Krystal of Dragonfly, SC
Ch. Pahlavi Puttin On The Ritz
Shirkden Shazam
Ch. Zuvenda Razcym
Shirkden's Libra Of Ashan
Alarickhan Jehada Pahlavi
Ch. Mecca's Falstaff
Ch. Khalife Cricket V. Alarickhan
Kameron's Stardust Fallon
Ch. Karzak's Apocalypse
Ch. Coastwind Abraxas
Karzak's Mirror Of Galadriel
Wildenau's Edelwiss
Ch. Wildenau's Firestorm
Jaffna's Velvet Dove
---
02/14/2013